In connection with:
No one should ever go hungry
Open every Wednesday
3:00pm to 5:30 pm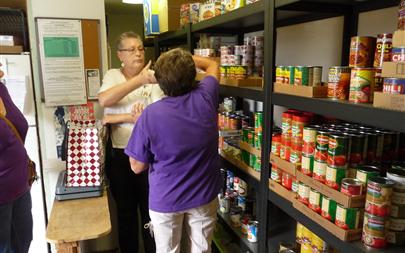 Kelly and Donna work side by side to provide food for clients.
Ron is serving up soup to the clients. Every Wednesday. Ron prepares delicious homemade soup and bread. We welcome our clients in for a hearty meal, fellowship and food boxes.
Like most food banks around the State, our available products vary from week to week... Our inventory depends on donations from local individuals and businesses, The Oregon Food Bank, and the volume of families using the service. We try to see that our shelves are stocked with nutritious foods to supplement your dietary needs. Staple foods such as rice, beans and peanut butter are always available. We would love to offer you recipes on ways to fix these staple foods. Just ask one of the volunteers.
Pantry Manager, Donna Sanders, accepts a donation from the annual event has helped to support the food pantry for over four years, Thank You to all the "Pirates" and event coordinators.
Thank You To: Bayside Chapel for providing us space to offer this service to our community. We would also like to express our gratitude to many individual residents for their constant, and generous donations made to the pantry. I would love to thank each one personally, but so many remain anonymous. So a huge Thank You to all will have to suffice. To our businesses and organizations, we thank:
THRIFTWAY/LINCOLN BEACH
THE CITY OF DEPOE BAY
PIRATES COFFEE COMPANY
THE CHAMBER OF COMMERCE
TREASURE DEPOE BAY
WORLDMARK RESORT
COLUMBIA BANK DEPOE
BAY SAMARITAN CLINC
DA FAT BOYZ BBQ
SAFEWAY LINCOLN CITY
DEPOE BAY LIQUOR STORE
DOLLAR TREE L.C.
**We apologize if we left anyone out. it was not intentional